Replace your outdated HDD servers with the latest SSD technology.
Boost site ranking with dedicated Indian IPv6.
Get full root access and control your server remotely using IPMI.

1 Gbps port speed with 2TB Bandwidth. 
Take Indian Dedicated Server hosting, and get an edge against your competitors.
Invest in a server that is 100% yours – No Resource Sharing.
Self-Managed Dedicated Server Hosting Plans
E-2136
12vCPU

32 GB

2×480 GB SSD

2TB Bandwidth/1 Gbps
Dual E5-2640 v3
32vCPU

64 GB

2×480 GB SSD

2TB Bandwidth/1 Gbps
Dual E5-2673 v3
48vCPU

128 GB

2×960 GB SSD

2TB Bandwidth/1 Gbps
Dual E5-2678 v3
48vCPU

256 GB

2×1.96 TB SSD

2TB Bandwidth/1 Gbps
All dedicated server hosting plans Include
Traffic included (100 Mbps port)
Optional Hardware Firewall
Up to 1 Gbps port available
Need Custom Solution
Plan your project needs upfront, and send us a note using the form and someone from the MantraCloud team will be in touch soon.
Why to go for a Dedicated Server?
Dedicated Servers are servers that are dedicated to only one client. The entire physical servers are yours, with no one else to share. You can tune the hardware and software to meet the requirement of your apps and projects.
This is the ideal type of hosting for large businesses that take the utmost care of privacy, security, and performance of the site.
Performance
Get full control of your environment by choosing the processor speed and number of cores and disks yourself.
Isolation
Dedicated means Dedicated — All the resources are entirely for your project and are not shared with anyone else.
Scalable
Add more storage to your dedicated server. Or we will migrate you to the server with more resources.
Control
Take complete control of your environment, or let us take care of the management. The decision is yours.
Unlock the speed with SSD Drives
SSD disks are non-mechanical drives and huge upgrade to HDD. They are much faster in transferring data, light-weight, and more durable than the traditional HDD.
Give your apps faster speed, quick backups, and restoration and reduce the server response time. Boost the performance of your project with the power of Solid State Drives.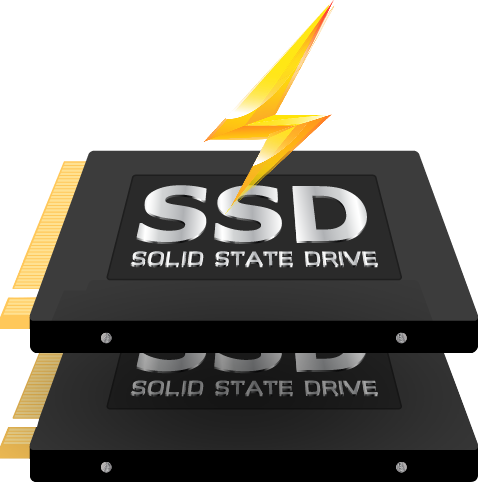 How SSD helps in improving performance?
Fast Data Transfer
CMSs such as WordPress and Magento rely on database access. SSD can read and write data quicker than the HDD. Hence, the load time reduces and the page speed increase.
Fast Backup & Restoration
HDD stores the data on a moving disk, while SSD uses NAND, similar to a pen drive. There is no latency due to the moving parts, and the large data could be back up in less time.
Handle More Visitors
SSD can read sequential data at a speed of about 550 megabytes per second (MBps) and write it at 520 MBps. Get no more slowdowns when the high number of visits come.
Less Maintenance Downtime
A  system with an SSD takes nearly 20 seconds to boot up while the same system takes 40 seconds with an HDD. The updates, patches, and the boot will be faster with the SSD.
Still Hosted on HDD or shared servers?
Get faster speed with Dedicated Servers India
Dedicated Server Hosting – Addons
Advanced Migration
We'll move your website & applications from current servers to our dedicated server hosting in India.
Managed Consultation
Our 10+ yrs of experience in providing the best hosting services to help you and your team in the right direction.
Application Setup
Our dedicated experts will install, setup and optimize your applications for the fastest performance.
Frequently Asked Questions (FAQ) about Dedicated Server Hosting
What is Dedicated Server Hosting?
Dedicated Server Hosting is the ultimate web hosting solutions.
In short, dedicated hosting is a solution when you rent an entire physical server for your websites. You do not share this server with anyone so it can be configured to meet your specific requirement. Since all of the resources (RAM, CPU, Disk Space, etc) of the server are yours and you do not have to share them with any other users, you should experience enhanced website performance and better stability.
How does dedicated server hosting work?
When you purchase the Dedicated Servers from MantraCloud, we tailor it to suit best with your project. Be it apps, websites, video streaming, or high-end graphic designing, we will configure the server as per your need.
You will also have full root access to configure the changes you want. With the entire physical server backing up the project, dedicated servers are the ultimate solution for rapidly growing businesses. 
Managed vs Unmanaged Dedicated Server Hosting?
At MantraCloud, you get the choice of both Managed Dedicated and Unmanaged Dedicated Servers.
Unmanaged Dedicated Servers:-
You get full access to your server and you can customize it according to your needs.
They are cheaper than managed servers.
You have to take care of its performance, optimization, security, and updates on your own.
If you have the technical knowledge and time to manage a server, then only it is the right option for you.
But if you don't, then

 you'll hit problems from day one. 
Managed Dedicated Servers:-
If you choose managed dedicated hosting, then you don't need to have any technical bent.

It is far less work and requires little expertise.

If something goes wrong and you're stuck, you can call our team of solution architects to give you a hand.

We take care of managing and optimizing your server for best performance. 
Who should buy Dedicated Server Hosting?
If you are looking for a hosting that gives you total access to the servers and be able to support scaling business with reliability, then dedicated server hosting is the best solution for you.
What are the advantages of dedicated server hosting?
Dedicated servers provide the best levels of performance, control, and security. You will enjoy the following benefits:
Root Access:

 With Root administration access, you can install any software of your choice and have complete control over your resources.

Dedicated Resources:

 

Your allocated CPU, RAM, HDD, and bandwidth will always be available to you.

Easy to Scale:- Your site will not go down when the traffic is high. It automatically 

scales vertically or horizontally and distributes the traffic evenly using a load balancer. 

Privacy and Security:

 

Unlike shared hosting, you are not sharing space with anyone, your critical data and applications are safe at minimal costs.
Is it possible to manage dedicated server via Web Based cPanel?
Sure. You can manage your dedicated server hosting with cPanel or other web-based control panels easily. MantraCloud aslo offers cPanel and Plesk Hosting.
Can I get HDD option with your Dedicated Hosting?
Our dedicated servers are equipped with the latest SSD servers that provide the optimum speed to the hosted websites and apps.
Although, we can arrange high speed HDD server on the request. Please submit your request, with the requirement.
Is it possible to migrate from VPS to Dedicated Server?
Yes. After looking at multiple advantages that Dedicated servers offer over the Cloud VPS, many customers switch to the dedicated server. At MantraCloud, we have an expert team trained in migrating the Cloud VPS instances over to Dedicated Servers while keeping the downtime minimal.
Whatever the reason for your migration from the VPS cloud, contact us with your requirement and get your free consultation call.
Can you assist us with moving our website from the previous host?
Yes! Our team of experts can help you in server migration from another host, custom server settings and server-level optimizations. You can contact our technical experts to discuss the migration procedure and charges. 
How many IP addresses come with dedicated server India?
A single IP address is provided with each dedicated server. Additional IP addresses can be purchased upon request. [Note: Justification for these IP addresses must be in compliance with APNIC guidelines].
How many websites can I host on a Dedicated Server?
The number of websites that can be hosted on dedicated servers depends on the resources you choose. If the site is not taking many resources, you can host more sites on the same server, and if the sites require more resources, you can add more hardware to dedicated servers.
In other words, dedicated servers have no limit to and you can host as many sites you want. 
Can I add extra storage to my servers?
Yes, we can upgrade your plan to add extra storage to your servers. It is possible to add extra disk if required.
What is RAID? Do you offer Raid?
Redundant Array of Independent Disks (RAID) is a way to secure data. RAID allows mirroring of the data at multiple disks, while all the disks remain connected to the server and work as a single entity. However, if one disk fail, it will not affect the other disks, and the data will be safe.
Yes, we offer RAID-1 with all of our dedicated server hosting plans.
How do I get started with Dedicated Hosting?
Getting started with Dedicated hosting is easy. Simply choose from Dedicated hosting plans based on the amount of resources your website needs and follow the signup instructions.
How soon will I get my Dedicated Server Hosting?
Although the average time for us to provision your dedicated server will likely be 4-6 hours, it may take up to 24 hours or more. But, if you need your hosting right away, please call us at 9899618277 and we'll do our best to speed things up.
Ready to Host Dedicated Servers?
Contact our team now
Our Dedicated server hosting experts are available to help you find the perfect solution for your organization, we are available via live chat 24×7 or by phone from 9 am – 5 pm GMT Mon – Fri.